TRACTION - The Barn Dance Band
"This band just oozes rhythm, style and enthusiasm."
C.V.
All four of us have been playing traditional music for dancing for many years.

Line-up:
| | |
| --- | --- |
| Dick Wolff | melodeon, concertina, whistles, harmonica; |
| Jonathan Leach | fiddle, mandolin, melodeon; |
| Ian Wheeler | concertina, percussion; |
| Mark Fry | bass guitar; |
| Callers | Amongst others, we work with Pete North and Will Hall. |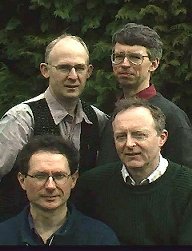 Previous History:
Ian was part of Phungus for many years, and has been a regular at folk clubs and festivals in the district for around 25 years. Dick started performing in folk clubs as a teenager in the late 1960s. He used to play with Rum Elk and Aardvark, and nows deps occasionally for Aldbrickham. Jonathan was playing mandolin in folk clubs by 1976, and is now a regular with Aldbrickham. Mark started singing folk songs as a solo performer in 1988 and has organised several scratch bands under the name of The Noke Millennium Band, which the others have all played in. Ian and Mark formed Three Pressed Men in 1995, and Dick joined them in 1999.

Between us we have over 100 years experience of performing traditional music!

Availability:
Ideally, we'd like to average one gig a month. Because Dick is a church minister, we are not always available on Sundays.

More than just dances:
Three Pressed Men (Ian, Dick and Mark) continues in its established form, performing a well balanced mix of mostly English, mostly traditional songs and tunes. We are always looking for concerts, folk-clubs and similar "sit-down" gigs. Of course, the new band is ideally suited to occassions that require both dancing and less participatory musical entertainment!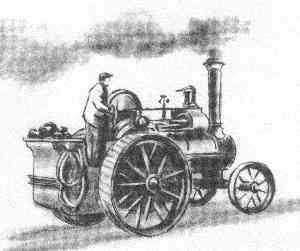 Back to top
Steam Age home page Traction Front page Contact Traction
this page updated 8/4/2003